Yubi Kirindongo, Cultural Icon of Curaçao
On January 24, 1946, Yubi Kirindongo is born in Willemstad. The umbilical cord around his neck nearly strangles him. According to the artist, the incident explains the origins of his uncontrollable energy. It must have been an enormous shot of adrenalin that helped him to survive, because what follows is a turbulent and fascinating life. Kirindongo endures a hard, fatherless childhood and, at the age of nineteen, stows away on a cargo ship heading for Europe, where he wanders from place to place, living on the tattered fringe of society.
As an autodidact, Yubi begins to paint and gradually discovers that art is a way to express his own liberation and development. Back on Curaçao, he evolves into one of the island's best known and most socially engaged artists. He devotes himself to effecting social change and eliciting a greater cultural contribution from the black community. His frustration over the underestimation of his Afro-Caribbean brothers and sisters – and the consequent denial of their culture – and his anger over the pollution and ecological destruction of his beloved island are sources of inspiration for his growth as an artist.
Yubi Kirindongo works with materials that the rest of us throw away. Having been no more that 'trash' in his younger years, Kirindongo now reuses debris to make sculptures. He scavenges the island, collecting rubbish and taking it home to a place – house, studio, and sculpture garden – that he built with his own hands. He has an inexhaustible talent for combining found objects to make art. Discarded car bumpers recycled to form sculptural works have brought him international fame.
The charming and recalcitrant artist, with his impressive and multifaceted oeuvre, has become a cultural icon of Curaçao. If you know anything at all about contemporary Caribbean art, there's no getting around Yubi. Yubi Kirindongo has received a number
of international awards for his work.
Thomas Meyer zu Schlochtern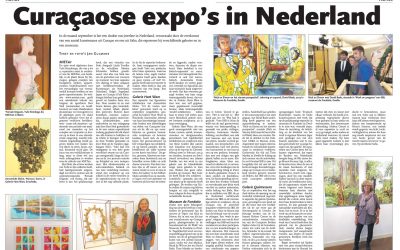 Antilliaansdagblad van vandaag 15 oktober: Onder zeer grote belangstelling van de pers heeft op 17 september de presentatie van de nieuwe cd 'Open' van Nick en Simon, die in mei van dit jaar een strandconcert op Curaçao gaven, plaatsgevonden in de benedenzaal van 'de Wolk' van Museum de Fundatie in Zwolle. Tegelijkertijd werd een tentoonstelling geopend van op de liedjes van de cd geïnspireerde kunst van een achttal kunstenaars, onder wie Ans Markus, Ruud de Wilt en het trio David Bade, Tirzo Martha en Instituto Buena Bista (IBB) "The Curacao Center for Contemporary Art" Lees meer in dit artikel.